Domaine Ramonjavel is in the early or late season a wonderful vacation spot for toddler and/or preschoolers !
Not yet tied to the schoolvacations?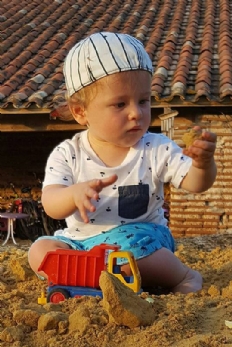 * Due to our small organized camping. Around the tent platform is a safety fence so your little one cannot go to the water on his own.
*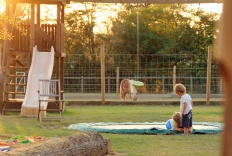 On the square, where everything is happening, Your kids can play on the playground, in the play barn and off course they can cuddle with the animals in the petting zoo. While the kids entertain themselves, the parents can keep an eye on them from the terrace,
a social coming together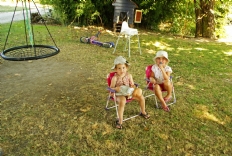 * The Lot et Garonne has a wonderful climate: in May, June and September is generally 6 degrees warmer than in the Netherlands, so it's not 18 but 24 degrees! By pleasant temperature the little ones can sleep well in the afternoon. If it is too cold in the morning or evening there is a heater available.
* Take advantage of the low-season prices!
* Domaine Ramonjavel has put out a fun quest in the beautiful fortified villages. The children find it amazing to trace everything and learn right about the area.